United by a meaningful purpose
Our job is to place people in amazing opportunites across the world, but our purpose is to change lives for the better.
Why should you work at Skillfinder International?
We're a recruitment company that goes to great lengths to support and care for its people while creating opportunity for them.

A rewarding financial package
On top of an attractive basic salary, together with the opportunity to earn life-changing commissions - up to 30%. It's a significant opportunity, when you consider that some of our fees for complex searches can be as high as £30,000.

We will enrol you in a private pension and match your contributions, up to 4% of your income (that's 8% in total).
You'll also get private health cover (BUPA) for yourself and you can include your family for a small contribution.
Career-defining clients and colleagues
Skillfinder has built a strong reputation over the last eighteen years and an impressive client list to match. You will get to work for some of the biggest brand names in banking and finance. And you'll be supported from the start by some amazing people, helping you build & grow your own client base.
Our senior leadership team sits among the team, so even the newest trainees get access to the directors on a daily basis. You'll also work with well trained managers and directors who will set you up to succeed and be there to celebrate when you do.
Bring your authentic self to work
We don't subscribe to the old idea of separating your professional self from who you are at home. Who you really are is who you should be at work. We realise too that working conventions, unconscious bias and office politics can sometimes make life difficult or challenging. That's why we're always working on our culture at Skillfinder to make sure it is inclusive, supportive and more human while our people are out smashing their targets and changing lives for the better.

I have learnt a lot at Skillfinder and can see results through the advice I have been given. They were willing to tailor a position for me here which was different to my previous recruitment role.

Sarah Doan-Gill

Senior Recruitment Consultant
Diversity is a priority here
We don't just talk about diversity and inclusion - you'll notice. We are committed to building a diverse and inclusive team at Skillfinder International, one where everyone has the opportunity to do well and shine brightly.​ Because we believe we can impact the world by helping change people's lives for the better one person at a time.
We understand the difference it makes when people are allowed to be their authentic, whole selves at work. Not only do we work hard to make an inclusive environment internally, we coach our clients into doing so when they are recruiting.
Perks and benefits
💷 Earn up to 30% commission
🧭 Defined career path and fast track progression
🍾 Regular reward breakfasts and dinners in breathtaking venues.
🏖 Amazing travel rewards for top billers - Miami, Ibiza, African safaris...
🧑🏾‍💻 Investment in external training and internal learning from start.
🗓 Generous annual leave starting at 25 days.
🏥 High-level private health cover.
💼 Flexible working.
🎉 Early Friday finishes when targets are reached.
💰 Private pension with 4% contributions from company.
🎭 Inclusive social events which aren't solely focused on drinking.
🏢 Stylish City-based office hub.
🛫 International travel opportunities with big-name clients.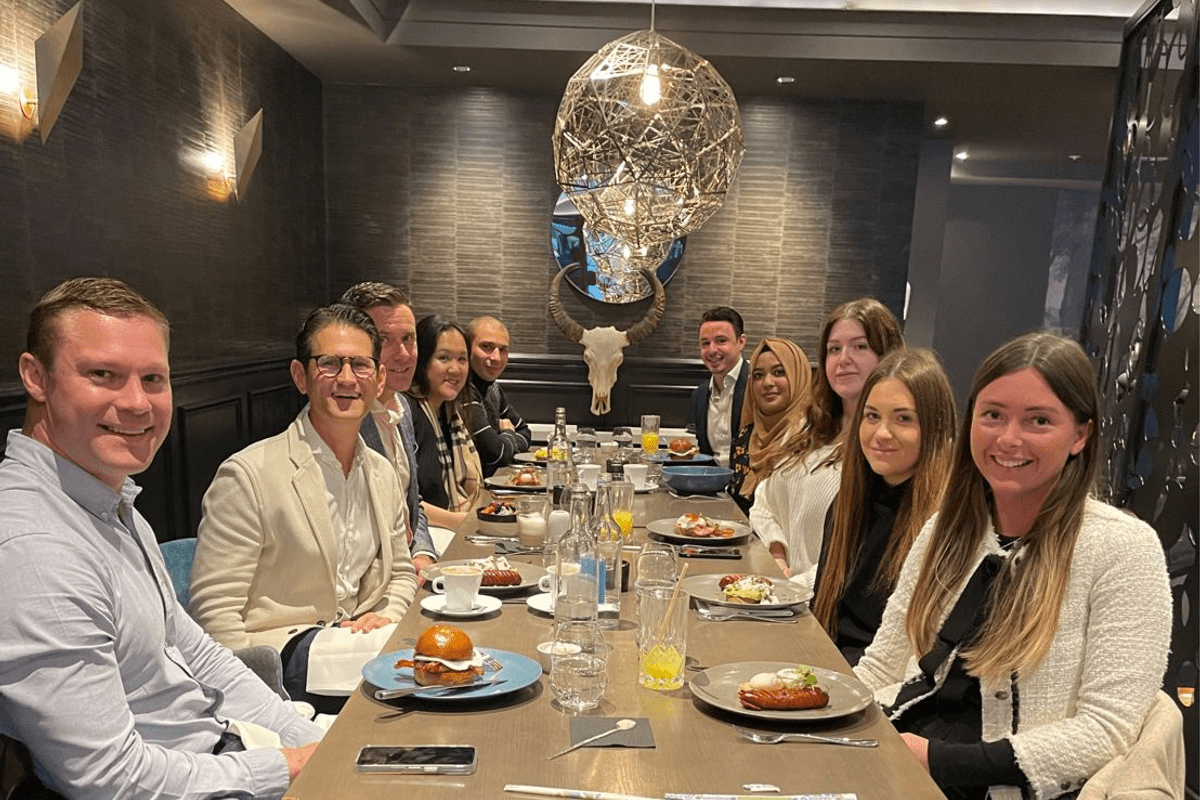 Exciting rewards and incentives all year 
You could have chosen an easier job, but you love the rewards that a sales role can provide, and we love rewarding good work. There's a monthly breakfast club for high achievers at some of the most exciting restaurants. Some of our recent breakfast clubs have been at Hawksmoor, City Social London, Duck and Waffle and 14 Hills.

How about a holiday paid for by work? We love to arrange group trips to amazing places for high performers. Our previous incentives have included trips to SouthAfrica (on safari), Miami, Ibiza & Las Vegas.
Weekly incentives
We are constantly having shorter, fun incentives to make our days exciting and enjoyable – Amazon vouchers – for the most candidates sent out to jobs anyone? Or would you prefer lunch for two for the most new interviews booked in a week?